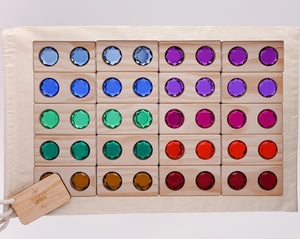 Brights Blocks Gem Set in Storage Bag
Regular price
$180.00
Sale price
$90.00
Tax included.
---
Handmade Gem insert Brights Block Set.
This beautiful bright coloured 20 piece block set comes in a calico storage bag.
Bright beautiful colours to add to your opned-ended play and construction play.  Making beautiful windows \, roads, coloured walls or a fun matching pair game with blocks turned over. The gem blocks can also be used as a traditional domino game. 
This set contains 2 x 10 Bright colour gem inserts.  The gem is a flat star with faceted star sides on the gem insert.
Individual blocks measure 10cm x 5cm x 2cm.  Each gem insert is 30mm
 Please note due to the nature of the wood grain; there may be variations and characters we love to showcase in our products.
SAFETY STANDARDS
All our products are designed and made with children's safety in mind and made to meet AUSTRALIAN STANDARDS AS/NZS 8124.
Please read all product descriptions and care instructions carefully to ensure you are purchasing and using each item for its intended purpose not to damage the product or more importantly, put your child's safety at risk. We have done our best to make these terms clear in each description and cannot be held responsible should an item be misused or the information provided ignored.
RECOMMENDED AGE
All products are intended and designed for children above the age of 36 months. Some products may pose a choking hazard and not recommended that children who still put objects in their mouth have access to our toys unless fully supervised.  
Parental supervision is required at all times. Please check your items before use and discard if they show any signs of damage. 
CARE AND CLEANING
Clean your wooden toys using a gentle cleanser. You can use a simple vinegar and water solution (1 part vinegar to 10 parts water), a mild, environmentally friendly dish soap, and some warm water, or favourite non-toxic, multi-purpose cleaner, diluted with water.
Shipping Within Australia
Due to a currently high volume of orders, we endeavour to ship all orders within 4-5 business days.
Flat rate shipping of $15.95 on all order this does not include bulky items.
If we anticipate any delays with your order Inspired Childhood will contact you immediately and likewise, if your order is urgent please let us know.
International Shipping
At this current time Inspired Childhood does not ship internationally.