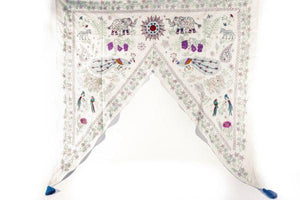 Door Valance
Regular price
Sale price
$94.00
Tax included.
---
An absolutely glorious textile art door toran hand embroidered by rural Bengali artisans. Each door toran is hand worked, which means every one is unique. The central feature at the top is the sun, hand embroidered elephants, zebras, peacocks, tigers and parrots radiate from the sun. Flowers, foliage and paisley designs intermingle to create a cheerful and colourful effect. The border is a vine of floral and leaf designs. Although the embroidery is extremely colourful, the white background material creates a more "neutral" effect, so the door toran will fit into any environment. There is a wide area at the top of the toran to insert a rod for display purposes or mounting. Two thick tassles complete the artistic design of this door/wall feature.
Size: Width approx. 70 cms and length approx. 130 cms

Not recommended for very young children without supervision. Age 3+
Purchased from the fair trade organisation SHOHOJOGITA , a Bangladesh word which means "helping each other". The principal vision is to help the rural poor, widowed, divorced and helpless women by creating employment for them. 

SHOHOJOGITA is a non-profitable and non-government social development organisation.

In the tranquil rural villages of Kushtia, Gazipur and Birishiri in Bangladesh, 140 women are involved in creating exquisite items using the traditional skills of Nakshikantha embroidery. Patience, perfection and creativity are necessary attributes for every artisan who hand works this highly skilled embroidery. By securing markets for their embroidery work, the artisans, many whom are single, divorced or widowed are able to earn an income which is vital in their struggle to survival.
Shipping Within Australia
Due to a currently high volume of orders, we endeavour to ship all orders within 4-5 business days.
Flat rate shipping of $15.95 on all order this does not include bulky items.
If we anticipate any delays with your order Inspired Childhood will contact you immediately and likewise, if your order is urgent please let us know.
International Shipping
At this current time Inspired Childhood does not ship internationally.