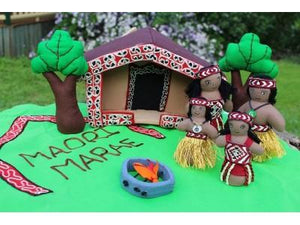 Maori Village Set
Regular price
Sale price
$70.00
Tax included.
---
Bring the traditional Maori Marae alive with this unique eight piece setting. A wonderful multicultural educational resource. The Marae is a sacred open meeting place and the basis of traditional Maori community life. It is where official functions such as celebrations, weddings, christenings, tribal reunions and funerals take place.  When not in use the Maori family, fire place and trees can be neatly stored inside the Mare and the green bag folds up and velcros closed so all the pieces are safely stored. Ornate embroidery work defines the Marae. The Maori doll family are wearing traditional clothes. and have hand painted faces.
Size: The Marae has a height of approx. 14cm & depth of 16cm & width of 26cm.  The mother and father dolls have a height of approx. 13cm and the children a height of approx. 9.5cm. The trees have a height of approx.19cm.
Not recommended for young children without supervision. 2+years.
This wonderful unique item has been lovingly made by the extremely talented artisans at Artisans Effort in Kolkata, West Bengal , India. Many of the artisans were previously exploited and badly treated in their original workplace. Through your purchase you are helping the artisans regain their dignity and receive a fair wage. For all these artisans and their families it is their lifeline and escape from poverty. As Artisans Effort is a producer based organisation all the Artisans needs and difficulties are closely understood . Not only does this purchase help to enrich the lives of many producers but it also helps to fund a school established in January 2014 by the founders of Artisans Effort, Ejaz and Shaista. The school is based in Asanol (West Bengal). As well as admitting paying students, Artisans Effort also covers the cost for some needy students.
Shipping Within Australia
Due to a currently high volume of orders, we endeavour to ship all orders within 4-5 business days.
Flat rate shipping of $15.95 on all order this does not include bulky items.
If we anticipate any delays with your order Inspired Childhood will contact you immediately and likewise, if your order is urgent please let us know.
International Shipping
At this current time Inspired Childhood does not ship internationally.